When it comes to tree trimming, many people conjure up visions of someone climbing a tree with spikes on their shoes. Meanwhile, each upward step puts a deeper gouge inside the tree. However, not all tree trimming services use this method as there are ways around spiking trees.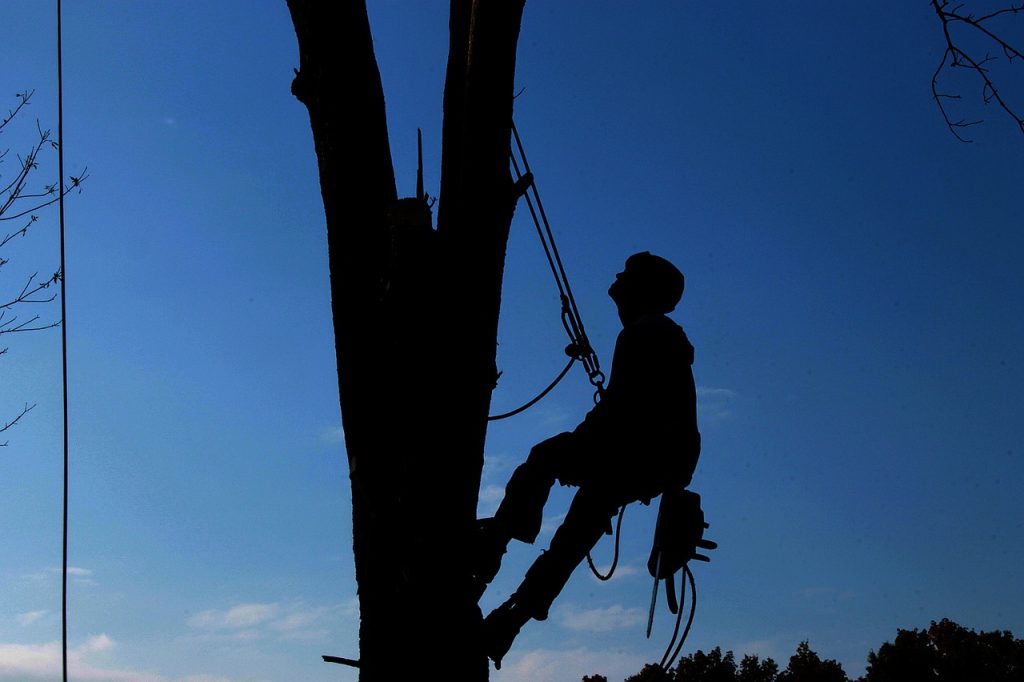 Using ropes, pulleys and harnesses is a safer and more effective way to trim trees. It also ensures the health of your tree. A major reason for tree trimming is to maintain a strong and healthy tree. Spiking the tree on the way up and down pretty much defeats that purpose. The wounds left from spikes could also wind up being permanent. And in some instances, it could result in the death of the tree.
Trees are susceptible to disease and that often comes from an infestation in a wound. Climbing spikes leave a trail of wounds, which essentially makes a tree extremely vulnerable.
Ascending towards the top of a tree without the use of climbing spikes requires detailed techniques, as well as the proper equipment. It is important to have each of those in place as it is the first step towards successful and effective tree trimming.
Those who use climbing spikes may also be limited in the area in which they can operate. For example, they may have just a few feet of room to operate and while they may remove branches, there could be a compromise when it comes to the precision of their work.
A larger-size branch that is not trimmed at the right angle could leave an excessive stub. That could make the area more prone to disease. There is also the risk of climbers weakening other branches on their way up. That could lead to breakage in the future and present the hazard of a falling branch.
There are certain things to look for when hiring a tree trimming service. Those who do not use spikeless climbing may have a few questionable traits. First, the health of a tree should be a top priority and that ceases to be true when climbing spikes are used.
Secondly, spikeless climbing involves a certain level of skill. If a tree service has not invested the time into developing that skill, then other areas of their service may also come into question. Hiring a service with skilled spikeless climbers could be a sign of a company's dedication, commitment and expertise.
Tree Works always uses spikeless climbing to ensure healthy and beautiful trees for our clients. Contact Tree Works today and take advantage of our top-quality tree services in Matthews, NC and the surrounding areas.